Vigilant and attentive to our environment, we are keeping up with the latest technologies and innovations, for the quality we offer, sustainability and social concerns. Our team is composed of motivated and qualified members whose importance is crucial for wilight telecoms. We also monitor and follow up our work after it has been completed. Working with wilight telecoms means ensuring quality, sustainable and reliable services.
With this in mind, we are constantly listening to your needs and trying to respond to them as best we can. We work closely with you throughout our project to be as close to your wishes as possible and to achieve them by your side. We focus on being your partner and to work together in order to add more value and improve your firm while respecting its values, which are fundamental to us.
Our company digitalize. We use the ecological search engine Ecosia and we prioritize Swiss digital platforms when possible. In the same logic, our virtual working environment (terminal server) is hosted in a data center in our region in Neuchâtel, which is 100% cooled by free cooling. This means that it does not use air conditioning but only outside air.
Our certifications
Swiss Triple Impact
In order to take action and start our journey towards sustainability, we decided to join the Swiss Triple Impact program at the end of 2022. The Swiss Triple Impact (STI) is an engagement program to move the Swiss ecosystem towards a resilient economy by contributing to the Sustainable Development Goals (SDGs).
The STI is an accessible and credible sustainability program for businesses developed by B Lab Switzerland, a leading systemic change organization that efforts to transform the global economy for the profit of all individuals, communities and the planet.

R&M inteliPhy net Service Partner
Certified R&MinteliPhy Service Partners receive an in-depth training covering R&MinteliPhy components, operation, configuration and customization as well as, installation, commissioning and troubleshooting of «R&MinteliPhy Monitor». The training enables the Service Partner to install and commission R&MinteliPhy net systems as well as to provide service and support for end users.
As a Certified R&MinteliPhy Service Partner, we are able to assist Network planners and CIOs appreciate the abundance of functions, visualization tools and component libraries that come with R&MinteliPhy net. R&MinteliPhy can be deployed in Data Centers and in Office environments.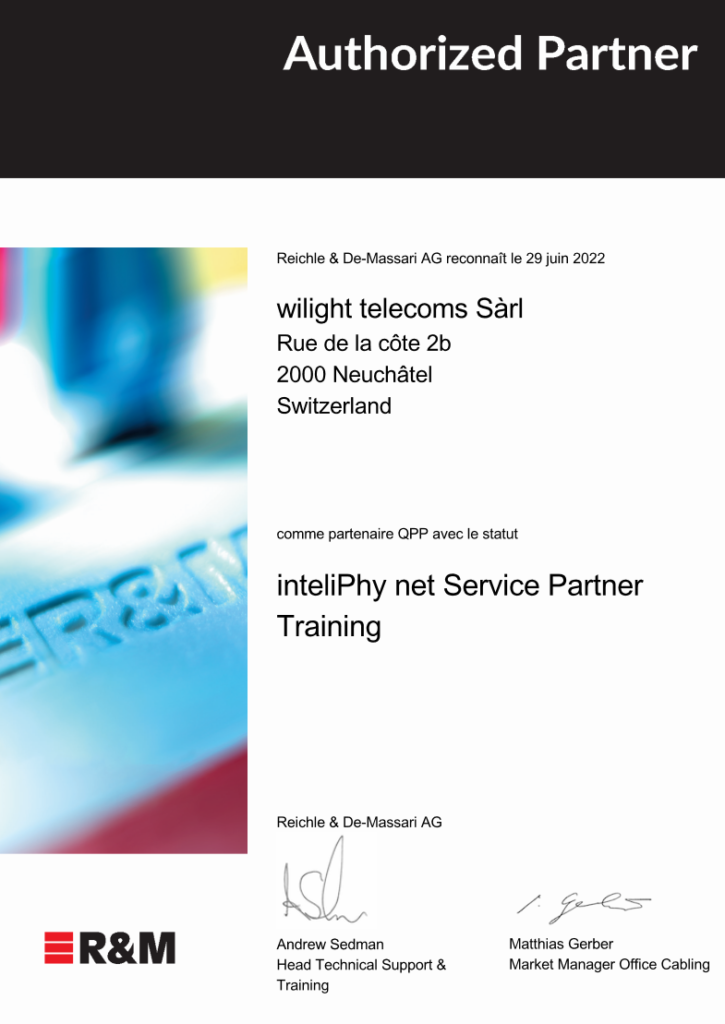 LAN Installation Manager
LAN Installation Managers are responsible for proper and professional installation and for quality control for R&Mfreenet cabling systems within the office environment.
We have received in-depth training in the planning, installation, and acceptation of structured office cabling, both according to the latest standards as through best practices. We have the ability to offer customers a quality physical cable infrastructure to last future applications.
LAN Installation Managers can grant their customers the 25-year R&M system warranty for correctly installed structured cabling.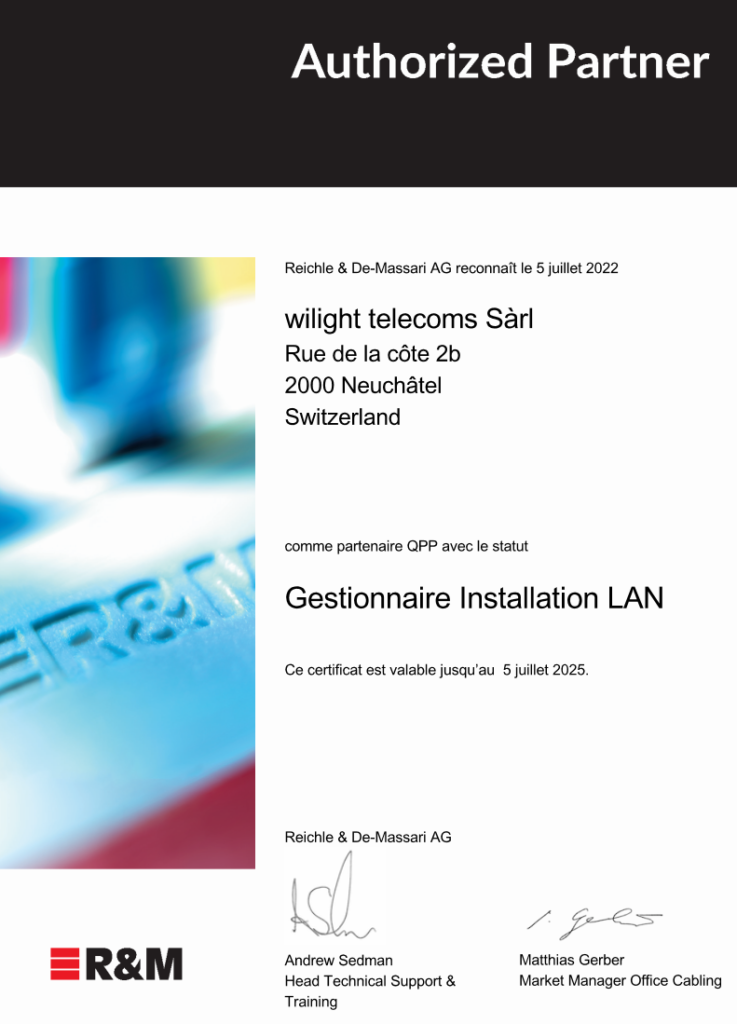 Our team